STONE CIRCLE
AND GUESTS: GRAPHIC FICTION HEROES, STELLA'S KITCHEN & AZTECH SUNS
THE CHARLES HOTEL, PERTH WA
23 JULY 2011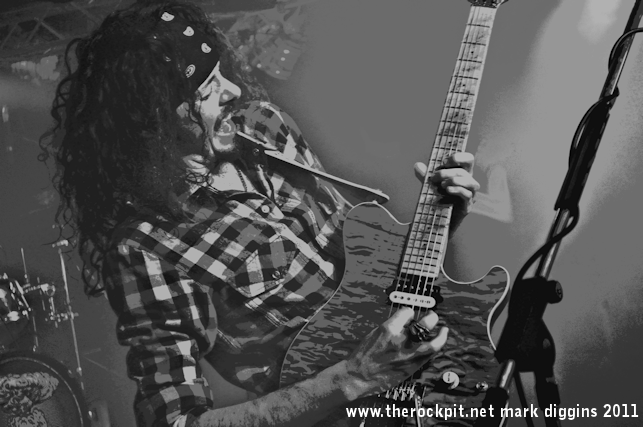 Northern Lights (new song)
Skeletons (new song)
Sold Me Out (new song)
Tied To Stone
Transparent
Epic
Take Your Chances
Speed Racer
Gero Love Song
Lost
Living for the Sunshine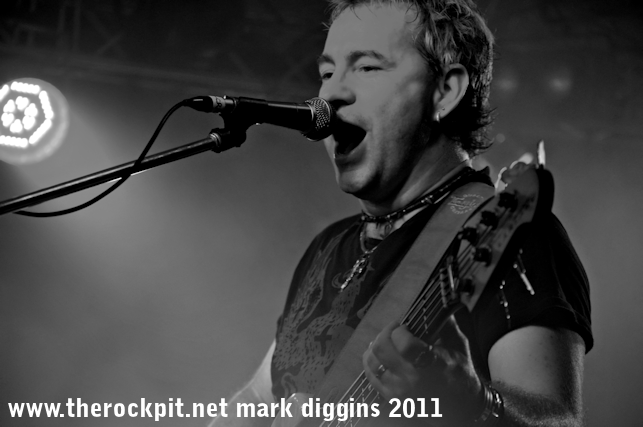 Unfortunately arriving too late for tonight's supports due to an earlier date with The Hives we catch the last half song of the rechristened Chris Gibb's Trio (now Graphic Fiction Heroes) set and wish we'd got to The Charles sooner. One to be sure to catch next time.
Stone Circle has been busy since their second album launch back in March. A priceless appearance over east with Sir Bob Geldof as part of the Rock and Rebuild Charity event, support to Jon Stevens locally and a just announced support slot for Diesel makes them one of the hardest working and higher profile rock acts out West.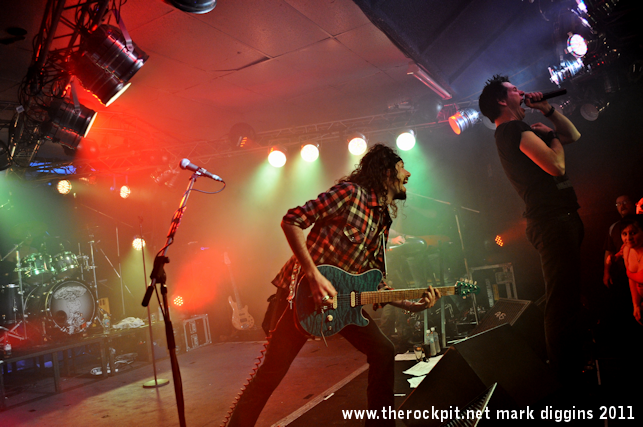 Tonight's show is typical of Stone Circle: give the crowd something a little different and something more than they want or expect. That work ethic and dedication really is something that sets this band apart, and one thing you can be sure of when these guys headline is that you will get something that little bit extra... and that my friends shows a band which cares about its fans, rewards the faithful, and is doing everything it can in this increasingly competitive industry to set themselves apart. Tonight saw a photo booth laid on for the attendees as a great fun twist on adding to your mailing list!
As for the set tonight we get what we were promised: three new songs. I love the fact that they come bang at the start of the set, one after the other. Whether that's confidence or just plainly good common sense I'll leave up to you; but it works and it gets the crowd talking so it does the job! Hearing the songs cold for first time my initial reaction is overwhelmingly positive especially to 'Skeletons' which just has that feel about it that makes you think 'surely they've played this before' they just sound so comfortable with it.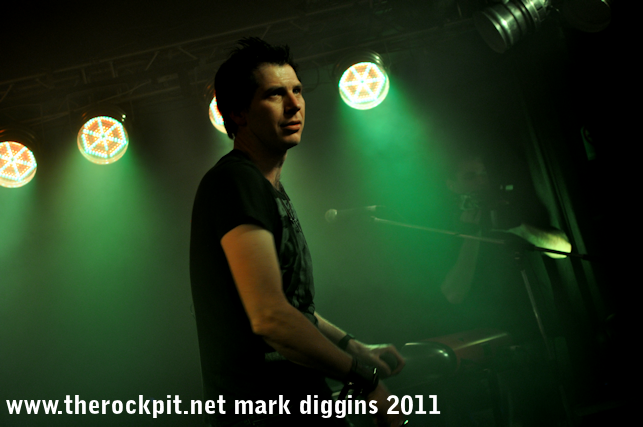 After the newbies, comes the familiar strains of 'Tied to Stone' which elicits a huge reaction from the crowd. The set tonight seems to have solidified since the album launch and ignoring the three new songs for the moment it's now a pretty balanced set for light and shade, peppered with showpieces to keep the crowd engaged.
The band tonight is about as tight as it can be with drummer Derrin Kee doing what all good drummers do: keeping perfect time and not overplaying. Ever the showman, Craig Skelton is allowed full reign to entertain on bass and keys and has the Michael Anthony book of facial expressions down pat. Both he and Scott Howe on guitar come alive on what is probably still one of my highlights of the set: the very Halenesque 'Speed Racer'.
It's not long either before we get Scott's now almost expected double-necked guitar solo played whilst being held aloft by the crowd during 'Epic' (it may be expected though it's still cool); we get glitter cannons and we get the showpieces: 'Gero Love Song' is a tune that seems to get better each time I hear it.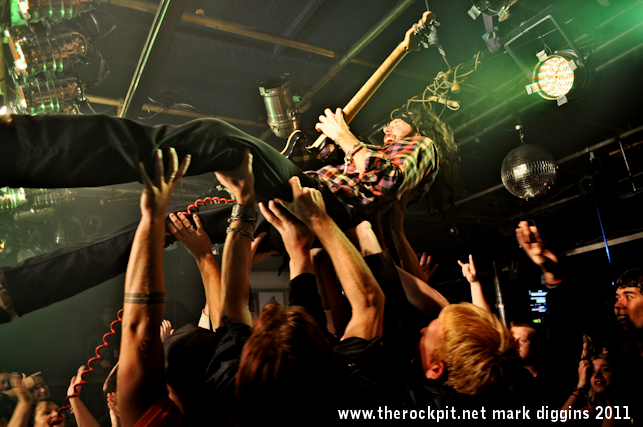 Front man Harry, too, has come a long way since I first saw Stone Circle what seems like years ago now, when he seemed a little self conscious and was very unassuming on stage. These days he interacts with the audience beautifully, serenading maidens one moment and singing his heart out the next. He now seems completely at ease, and it clearly lifts the band.
Stone Circle is a band that is high on confidence and for good reason. The fact that they have worked hard to build a solid fan base is starting to show in the fact that everyone in the crowd wants to get involved and half the audience are mouthing the words to the songs along with the band. It's also heartening tonight to meet a few people for whom this is their first Stone Circle show – word of mouth is spreading and if you couple that with the hard work the band obviously puts into both promoting themselves and writing then really good things should continue to happen.
If anything tonight it's the songs that are missing from the set that make you realise that these guys have already built up a nice catalogue: there's no 'You' tonight, or 'Rambling Man', but I think it's probably 'Don't Look Back' that I missed most, if not just for Craig's keys.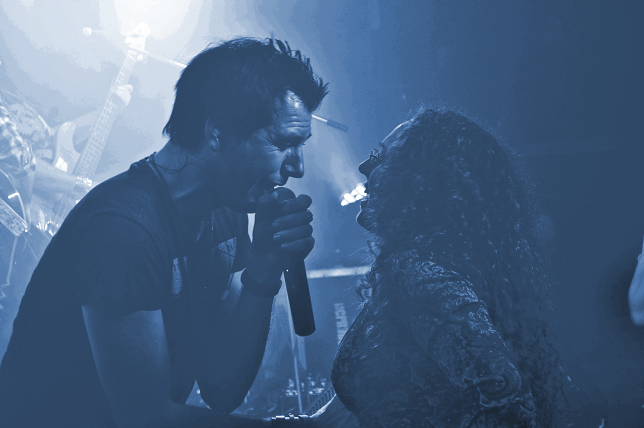 The sign of a good show is when everyone goes away happy and no one wants you to leave the stage. Both boxes were ticked tonight and even I, after a day stood photographing bands in a muddy field, have a new lease of life by the end of the set.
It's another great night from Stone Circle, beautifully executed and spilling over with ROCK!
Did I mention the cake?...
By Mark Diggins