AXE
Axeology 1979 – 2001
Deadline Music, 2012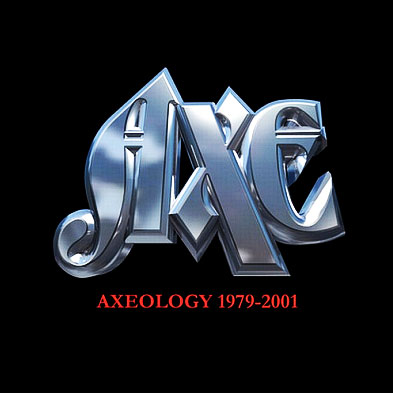 By Shane Pinnegar


Nowadays a band called AXE would be expected to be wearing leather, studs and fur, all flailing hair and viking power metal bluster, but at the end of the Seventies when Bobby Barth assembled Axe from the remains of Babyface, things were very different indeed.
Long haired, often moustachioed chaps playing a boogie rockin' AOR crossover, Axe's 6 albums are all well represented here, along with a couple of unreleased tracks for the completists.
Presented chronologically, with a touching history by Barth in the accompanying booklet, it's easy to see the progression of the band from their early, faltering baby steps, through 1981's slick and classy "Offering", which contained their biggest track Rock n' Roll Party In The Streets, to the more muscular, bar room brawler rock of 1983's "Nemesis".
Barth assembled a mostly new Axe in 2000, and tunes from that year's "V" and the following year's "The Crown" are better recorded than the early albums, whilst the songs stand up as worthy additions to the band's history.
Listening to both CDs consecutively you can almost hear the band grow, learning as they do, and with the benefit of a producer who better understood them and their sound, and a label prepared to push the band a bit harder, it's likely that some of these songs would be far more recognisable now.
Review posted 3rd May, 2012