Overkill
The Electric Age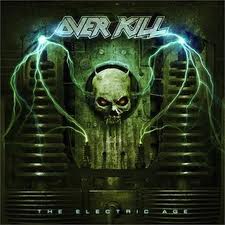 By Robert Kitay


I kind of lost track of Overkill after the '80s until they regained my attention again with their fantastic 2010 release of "Ironbound."
"Electric Age" is a fantastic follow up and is leaving me with the thought that I need to go back and revisit the entire Overkill catalog to see what I've been missing all these years.
"The Electric Age" is simply thrash metal at its finest. Fast powerful guitar riffs, good guitar solos, solid drumming, and great singing are all on display here. The album reminds be a lot of the old pre-"Balls to the Wall" Accept albums, including Bobby "Blitz" Ellsworth voice having developed a bit of a rasp over the years that reminds me of Udo Dirkschneider's back in Accept's heyday.
I love this entire album, but the guitar riff's and singing on the song "Black Daze" are truly standout and invite you to throw some horns and jump into a mosh pit. Probably my second favorite song is "21st Century Man," which is has a rawness to it that I just love.
"All Over but the Shouting" is another ball burner that just screams get off your but and start moshing. A solid album start to finish, and my favorite album to date in 2012.
Review posted 28 May 2012