THE RUNAWAYS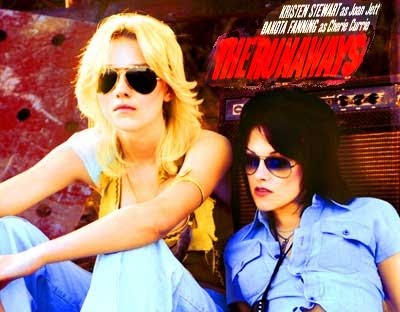 THE RUNAWAYS were the teenage girl band who imploded in the late 70's in a flurry of catfights, drugs, sex and an undeserved undervaluing of their musical legacy.
Fast forward to 2010 and the Runaways legacy seems to finally be rising to its rightful place in the pantheon of rock n' fuckin' roll, in no small part due to the release of this biopic.
Make no mistake though – this isn't the definitive story of The Runaways. Largely based on lead singer Cherie Currie's memoir "Neon Angel – memoir of a Runaway", and executive produced by none other than Joan Jett, this is a decidedly one sided story of the band's rise to fame and barely touches on the other band members, or their spectacular plummet to earth.
What you do get here is the story of Jett (played by Twilight's Kirsten Stewart) and uber-producer freakenstein Kim Fowley's creation of the concept of an all-teenage girl rock band in a time where the very idea was tantamount to spitting on a church. Currie's (Dakota Fanning, also from Twilight, as well as Charlotte's Web & The Cat In The Hat) background and recruitment into the ranks is documented well, as is the toughening up and 'training' of the girls by Fowley before he sends them out on tour and into the rock n' roll world of a thousand lies, along with all the hedonism, ripoffs and descent into druggie tour madness that goes along with it.
We tag along as the band achieve success, Jett & Currie become best friends and lovers, before the in fighting gets out of control – especially between Lita Ford and our two leads - and Currie ultimately quits in a haze of drink, drugs, ego and emotional abuse, before both Jett and Currie, post band, find themselves some kind of peace and redemption as they let go of this psychotic period of their lives.
It's a wild ride – even wilder when you consider the number of episodes in Curries book which haven't made the final cut of the movie. Rape, STD's, abuse, infidelities, being whored out by their manager as well as other degradations and ripoffs all play a part in this story.
The music is great throughout – Runaways classics like 'I Love Playin' With Fire', 'I Wanna Be Where The Boys Are', 'Hollywood', 'You Drive Me Wild' and their most emphatic, defining moment 'Cherry Bomb' stand proudly shoulder to shoulder with Suzi Quatro, David Bowie & other songs of the era, as well as Joan Jett & The Blackhearts numbers 'Bad Reputation', 'Crimson & Clover', 'Love Is Pain' and the ubiquitous 'I Love Rock n Roll'.
Many of the Runaways songs are performed by the actresses playing the band, who writer/director Fiona Sigismondi placed with her husband's band The Living Things to get a feel for performing live, and it pays off in spades with the live and studio scenes very realistic.
Ultimately though, this is a snapshot of the shared memories of only two of the key protagonists - this is "The Runaways: The Cherie Currie & Joan Jett Story". There is a bigger, more holistically truthful story still waiting to be told about the band as a whole, but with Sandy West now gone, perhaps watching this film along with "Edgeplay:A Film About The Runaways" will provide our only chance to see a part of that bigger picture.
Shane Rockpit